Cecil County Public Library – North East Branch
Cecil County Public Library System had a big vision for their new North East Library. They came to us packed with passion and vision, wanting to take nearly 1,500 square feet of their new library and focus solely on early literacy.
Morgan Miller, the director, and her team shared with us their goals for the space. They were clear and well informed on Every Child Ready to Read practices. They knew they wanted this space to reflect the unique qualities of their town, North East. In our brainstorming meeting, they shared some highlights that resonated with their community and decided on the fitting name, Our Town Early Literacy Center.
A new kind of early learning experience
North East is an exciting new library with a passion to create an early literacy center that promotes learning through play and exploration—a space that nurtures a child's creativity, imagination and curiosity. The space was created to be engaging and hands-on for children ages birth to 5 years of age and their families or caregivers.
This environment is non-static, flexible, dynamic and transformative in nature. A thoughtful approach to all physical structures, creating meaningful interactive experiences within them, to engage the whole family and encourage the joy of being present together.
Inspiration + 360° PLAY
The buildings that resonated with us the most, because of their interesting stories they could tell were the downtown buildings, Old Town Hall, Turkey Point Lighthouse and Chesapeake Bay, and the Upper Bay Museum. After we determined which area of North East we were focusing on, we scaled each structure into the plan view. We knew there was a wall at the end of the space which determined our Baby Garden backdrop location. We considered the traffic flow and meaningful purpose for each of these structures.
The material used is almost all wood, warm and tactile, offering a connection to something organic and natural. Simple, imaginative elements that create a sensory experience where the delight of discovery and curiosity is nurtured and encouraged. Safety and durability are key.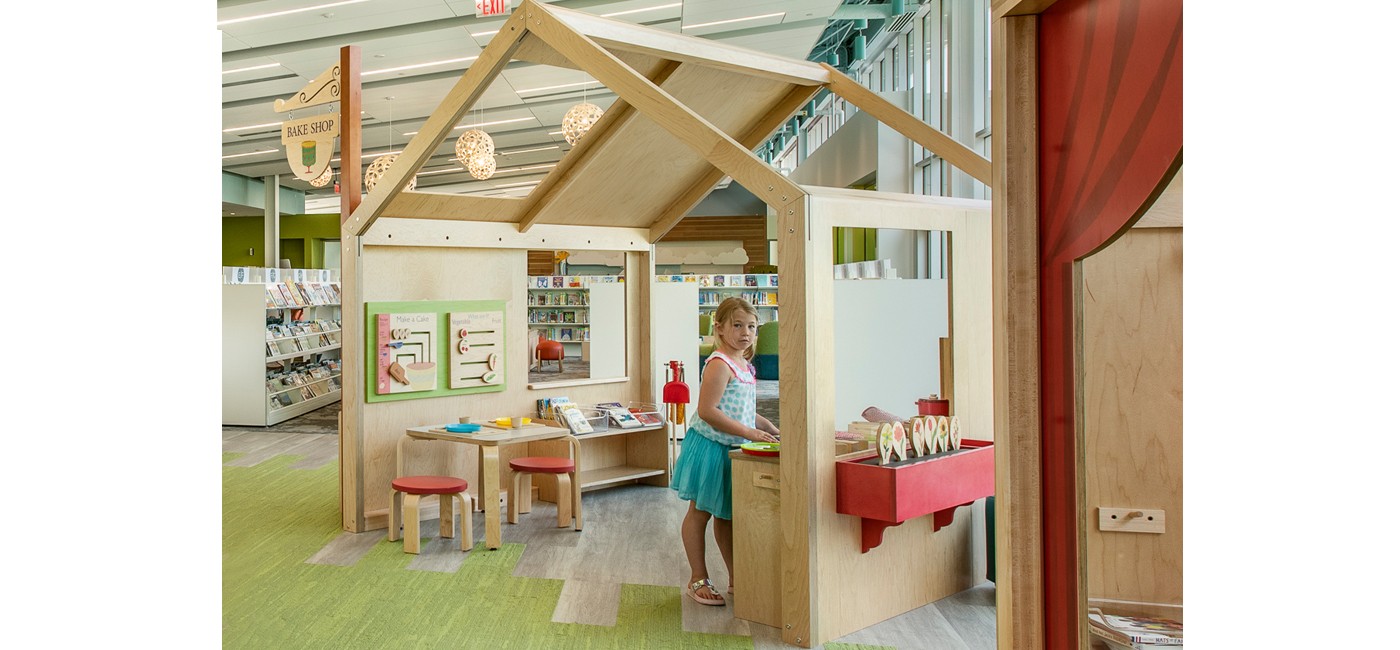 A House…A Bakery…A Farmer's Market…A Store
A clean, simple house shape defines this structure —an iconic symbol of family and community, but also inspired by North East's Bake Shop located in an old clapboard house downtown. The sign post includes interchangeable signs. One day it may be a bake shop or market; the next day, a house with numbers for the address. Book content changes as well as wood tablets that hang on the outside and inside the house. The kitchen is always present; a perfect place for conversation, baking and making food from the menu tablets. We incorporated early literacy principles throughout — wood tablets of Pease Porridge Hot, Polly Put the Kettle On, and a grocery list, to name a few. Menus and store or bakery items were added as well.
Thoughtfully designed content to help parents and caregivers engage with their children all the while offering delight in young children's minds.  Singing nursery rhymes together slows down language and increases vocabulary. Having rhymes and grocery lists present helps letter recognition which builds the foundation for reading and writing. Caregivers who participate in the play with their little ones can point and talk about everything that they see and touch – making a meaningful connection between the word and the object itself.
Shown above is our Planting Flower Box that is placed on the exterior as well as our Wooden Seed Packets and Box for the workbench. The Flower Box cubby not only holds the paddles, but also fits relevant books such as gardening. Children are encouraged to plant flowers, vegetables, herbs and more.
A Theater…A Puppet Theater…A Bank…An Understanding of Architecture
The Old Town Hall not only has an interesting backstory, but it also has architectural character and drama that inspired us to make a theater for plays and puppetry, with the front window for ticket taking and the show. We also imagined it could be transformed into a bank with its baroque quality.
We added perforated stars in the theater's roof but left the roof open on the backside so children can understand the building's beam construction.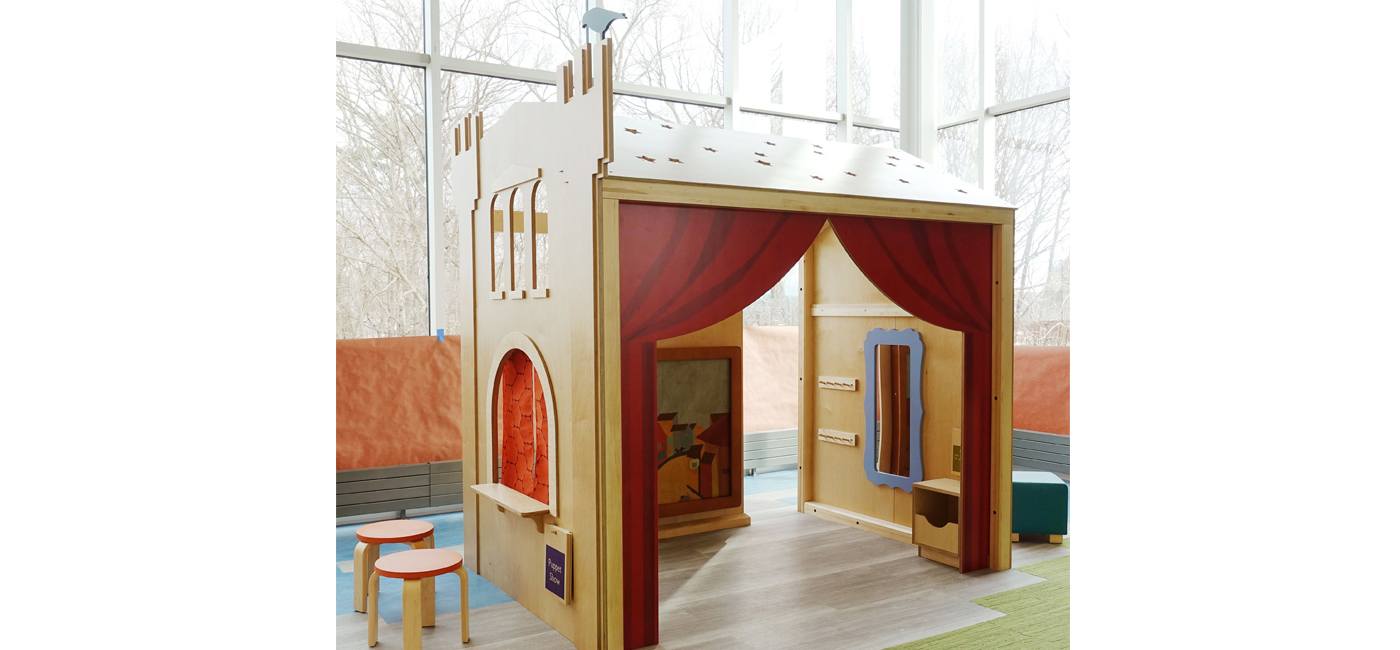 We wanted to create curtains and the scenery backdrop panels with a painterly style. The interchangeable scenery panels are of a town, a castle, a forest and pastoral farm, so the children can put on plays that relate to the backdrop. When the structure is a bank, the display box reveals an abacus with prompts.
Also pictured is a mirror with costume rack and prop storage. Wood tablets hang to prompt children with dramatic play suggestions – a child can pretend that they are the king or queen of the castle.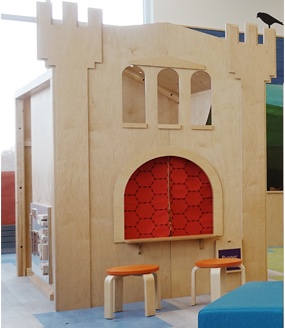 On the reverse side of the theater backdrop panel is our magnetic board with blocks and custom magnetic shapes for teaching architectural terminology — column, arch, and window – and for constructing buildings; one of which is the Civic Building! Playing with magnets hones fine motor skills encouraging little ones to grasp and pick up strengthening hand muscles for writing and more.
A Magical Place…Nature…Estuary…Chesapeake Bay…Garden
Showcased here is the unique and magical area of the Chesapeake Bay, estuary and garden. A place that is rich with discovery and wonder. The Turkey Pointe lighthouse, a local landmark, is present with working light, crawl-thru, and a curved wall that creates areas for play and reading. A sailboat moors nearby for imaginary adventures, and a dock that is a platform for loose parts play such as block building and fishing, or reading, block building and simply gazing out the window as geese fly overhead.
A quiet walled area just for babies and their parent or caregiver. A wall mural capturing the soaring Chesapeake Bay is overhead, while low, in the babies line of vision, is a garden with butterflies, birds, flowers and other creatures. All related to nature.
A soft curved bench follows a portion of the wall with cubbies for storage. An imaginative place for babies to explore and a soft floor mat too. Sensory items include our Flower Mirror, Sensory Log with creatures peering out, and our slider and hinged Learning Panels for cause-and-effect interactive activities. The wood provides a smooth, tactile quality for young babies.
A Place to Build, Tinker and Problem Solve
Inspired by the Upper Bay Museum, which is known for boat building and decoy carving, we wanted this structure to focus on building skills and tinkering. We created The Workshop to offer more opportunities for mathematical literacy, focusing on making and measuring.
The exterior has a wood disc ramp that provides a child the delight of watching gravity pull it down to the ground. A growth chart that asks a child to measure with a wood slider also clads this structure.
A rack of tools hangs on the wall with an "Our Town" ruler. A prompt asks a child to draw a bridge using the protractor, and inspires a story to be had, asking them to draw what is under their bridge too.
Early literacy is so important in a community space. We'd love the opportunity to collaborate and transform your space to fit your needs. Contact us to share more about your space and see what we can do together!